Scientific Name:
Thamnophis marcianus
Diagnostic Features:
Anal plate undivided.
Keeled dorsal scales in rows of no more than 21 near midbody.
Coloration:
Dark checkerboard pattern found running entire length of body.

Checkerboard blotches are on an olive background and even overlap a light colored middorsal stripe.

Two additional two white or yellow lateral stripes are found along the second and third dorsal scale rows (near the head, this stripe is found only on the third scale row).

Dorsal surface below lateral stripe may be a lighter shade of green or grey, lighter than the upper dorsal surface.

Two yellow or white crescents present directly behind the corner of the mouth, with a large black blotch placed behind each crescent.

Belly is mostly without dark markings, except for blotches along the lateral edges of the ventrals.
Size:
Thamnophis marcianus adults rarely measure more than 61 cm (24 in) in length, though the record size is over 107 cm (42.5 in).
General Distribution:
Thamnophis marcianus is found portions of six southwestern U.S. states: California, Arizona, New Mexico, Oklahoma, Kansas, and Texas; Thamnophis marcianus also has an extensive range through portions of northern and east-central Mexico.
Behavior:
A non-venomous snake, Thamnophis marcianus will often bite would-be captors, leaving only superficial bite marks. Another important defensive mechanism of the checkered garter snake is the habit of defecating foul-smelling liquids upon aggressors. The checkered gartersnake feeds on fish, various amphibians and earthworms. Some individuals have been seen eating carrion from the roadway.
Reproduction:
As garter snakes are viviparous, young checkered gartersnakes are born live throughout the summer months. As many as 18 neonates may be born at one time, with most measuring around 20 cm (8 in).
Habitat:
Found in a variety of habitats, Thamnophis marcianus is usually not far from a water source, whether it be a pond, stream or irrigation canal, though the nearby water source is not always visible above ground.
Conservation Status:
The checkered gartersnake is not a protected species in Texas and can be legally collected with a hunting license.
Texas Distribution:
The single subspecies of Thamnophis marcianus present in Texas, T. m. marcianus, occurs across much of the state, being more prevalent in the southern portions of the state, but entirely absent in the eastern quarter of the state
Distribution Map: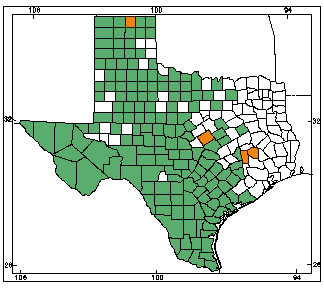 Orange counties indicate new county records since previous Herps of Texas update in 1998; all other colored counties reflect known distribution prior to 1998 for species and/or subspecies. Map is based on museum voucher specimens.