Scientific Name:
Hyla arenicolor
Diagnostic Features:
Round, toad-like body with rough skin (for a treefrog).

Large toe pads present with webbing on hind feet.
Coloration:
Overall color is brownish gray, though a pink tone may be present.

Light or cream-colored ventral surface.

Orange or yellow color on hidden surfaces of thighs.

Dark bar below eyes.

Dark throat in males
Size:
Hyla arenicolor reaches an adult size of 3-5 cm (1-2 in).
General Distribution:
In North America, Hyla arenicolor is found in a band from southern Utah, into Arizona, New Mexico, and west Texas and this frog is found as far south as central Mexico.
Behavior:
Hyla arenicolor is primarily active at night (nocturnal) and is most commonly found on the ground or on or between large rocks, but it may be seen on low branches of small trees or shrubs.
Reproduction:
Breeding takes place from March to July with sufficient rain. Eggs are singly deposited into a jelly sac in the water.
Habitat:
Hyla arenicolor is found in arid to semi-arid regions near permanent creeks in rocky canyons in the Big Bend area of Texas.
Conservation Status:
The canyon treefrog is not a protected species in Texas and can be legally collected with a hunting license.
Texas Distribution:
In Texas, Hyla arenicolor is found in the Big Bend region of the state.
Distribution Map: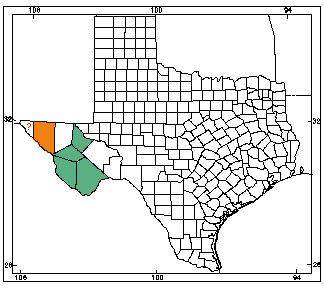 Orange counties indicate new county records since previous Herps of Texas update in 1998; all other colored counties reflect known distribution prior to 1998 for species and/or subspecies. Map is based on museum voucher specimens.