Scientific Name:
Sceloporus merriami
Diagnostic Features:
Small dorsal scales with scales on sides granular.

Partial fold on neck.

Long tail and a distinct dewlap (larger in males).
Coloration:
Four rows of dark spots run along the dorsal surface.
Three subspecies found in Texas differentiated by variation in intensity and shape of dorsal spots.

Dorsal color variable between populations (colors from tan to reddish brown to gray) to match surrounding environment.

Vertical black bar on shoulder in front of leg.

Males generally more vividly colored than females.
Size:
Sceloporus merriami can reach total lengths, including tail, of 11-15 cm (4.5-6 in).
General Distribution:
In North America, Sceloporus merriami is found in the southern portions of west Texas and adjacent Mexico, as well as in a disjunct population in northeastern Mexico.
Behavior:
This diurnal lizard species is relatively brazen, reemerging quickly from shelter after being spooked or threatened. Sceloporus merriami feeds on small insects.
Reproduction:
Eggs are laid in the spring and early summer.
Habitat:
Sceloporus merriami prefers rocky areas, such as on canyon walls or boulders, with little or no vegetation.
Conservation Status:
The canyon lizard is not a protected species in Texas and can be legally collected with a hunting license.
Texas Distribution:
In Texas, the three subspecies of Sceloporus merriami are seen in the southern part of west Texas as well as the western edge of the Edwards Plateau.
Distribution Map: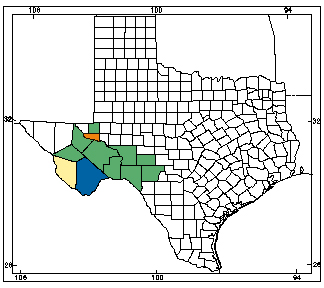 Orange counties indicate new county records since previous Herps of Texas update in 1998; all other colored counties reflect known distribution prior to 1998 for species and/or subspecies. Map is based on museum voucher specimens.