Scientific Name:
Pseudacris fouquettei
Diagnostic Features:
Slightly webbed toes with round disks on tips.

One toe on each foot much longer than others.
Coloration:
Brown or gray with highly variable markings across the dorsal surface.

Three longitudinal stripes, which may be broken into spots, if at all present.

White line along upper lip.

Dark stripes through eyes.

Dark triangle on head between eyes.

Ventral surfaces light colored with dark lines on breast.
Size:
Pseudacris fouquettei reaches an adult length between 2-4 cm (0.75-1.5 in).
General Distribution:
In North America, Pseudacris fouquettei is found from western Mississippi, through Louisiana into east Texas. Widely distributed across Arkansas, portions of eastern Oklahoma and the bootheel of Missouri.
Behavior:
Pseudacris fouquettei is nocturnal and will retreat to water or find cover when approached. Pseudacris fouquettei is insectivorous.
Reproduction:
Breeding occurs from November to May.
Habitat:
Pseudacris fouquettei can often be found in or near moist wet areas, such as swamps, bogs, and ponds.
Conservation Status:
The Cajun Chorus Frog is not a protected species in Texas and can be legally collected with a hunting license.
Texas Distribution:
In Texas, Pseudacris fouquettei can be found from the Piney Woods in east Texas, through the eastern Post Oak Savannah to the edges of the prairies in Central Texas
Distribution Map: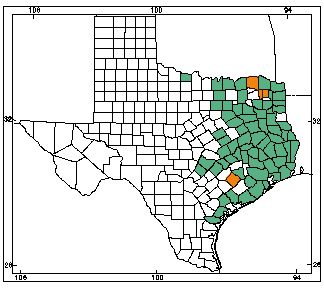 Orange counties indicate new county records since previous Herps of Texas update in 1998; all other colored counties reflect known distribution prior to 1998 for species and/or subspecies. Map is based on museum voucher specimens.