Scientific Name:
Graptemys caglei
Diagnostic Features:
Narrow head.

Flattened elliptical carapace with serrated posterior edge and vertebral keel of spine-like projections.

Males with longer vertebral spines than females.

Males with longer fingernails on forelimbs than females.

Unhinged plastron with pigmented seams.

Webbed feet.
Coloration:
Distinct, light colored V-shaped marking on top of head; each arm of V descends and forms crescent behind eye.

Additional light colored stripes on top of dark head and neck.

Limbs and tail also black with numerous stripes.

Dark edged, light colored crescent or band across chin.

Carapace brown to green, with each scute having yellow.

Males with some pigment on plastron.
Size:
Graptemys caglei is a small map turtle, reaching adult lengths of 7-12.5 cm (3-5 in) in males and up to 21 cm (8.5 in) in females.
General Distribution:
In North America, Graptemys caglei is restricted to two watersheds in Texas.
Behavior:
Like many map turtles, Cagle's map turtle is a wary, diurnal species that prefers to bask on logs and rocks away from the river's edge. The diet of this turtle is primarily insects and snails.
Reproduction:
Nesting is thought to be late spring through early summer with egg clutch sizes ranging from 1-6 and females possibly laying 2 or 3 clutches per year. Nests are dug immediately adjacent to the riverbank.
Habitat:
Cagle's map turtle inhabits the Guadalupe River drainage, a river with relatively shallow depths, but this species has been found in pools along the river in depths up to 3 m.
Conservation Status:
Cagle's map turtle is listed as threatened by the Texas Parks and Wildlife Department and is protected in the state of Texas. This species is also listed as a C1 species by the US Fish and Wildlife Service.
Texas Distribution:
In Texas, Graptemys caglei is known only in the San Antonio and Guadalupe River drainages, although this species may be extirpated from the San Antonio drainage.
Distribution Map: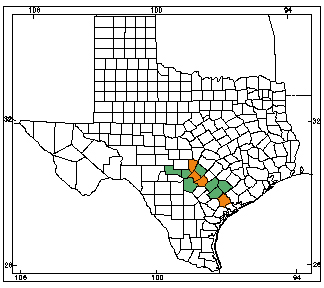 Orange counties indicate new county records since previous Herps of Texas update in 1998; all other colored counties reflect known distribution prior to 1998 for species and/or subspecies. Map is based on museum voucher specimens.