Scientific Name:
Anolis sagrei
Diagnostic Features:
A relatively small lizard with a short snout, long claws and a long tail.
Coloration:
Dorsal ground color is light brown.
Dorsal pattern consists of dark blotches on either side of a light middorsal stripe.

Males have light colored streak on throat when dewlap is NOT extended.

Males have orange-red dewlap with light center stripe.
Size:
Anolis sagrei can grow to 12.5-20 cm (5-8 in) in length (including tail), with males typically growing larger than females.
General Distribution:
In North America, Anolis sagrei is found in Florida and isolated population exist in Texas.
Behavior:
This diurnal lizard has a small territory, but will aggressively defend it. If an intruder approaches, the male will compress its body, extend the dewlap, and bob its head. Anolis sagrei is a terrestrial species, but is adept at climbing, enabling this species to feed on insects and spiders in a variety of habitats. It can hop to avoid being captured. This lizard species also sheds its skin several times a year.
Reproduction:
Breeding occurs for several months beginning in late spring. A single, small, softshell egg is laid about every two weeks until September. Incubation is
Habitat:
Anolis sagrei is mostly seen in trees, shrubs, vines, and on fences in moist environments.
Conservation Status:
The brown anole is not a protected species in Texas and can be legally collected with a hunting license.
Texas Distribution:
In Texas, Anolis sagrei is found in both the Houston and San Antonio areas, and may continue to be found in new regions around the southern portion of the state.
Distribution Map: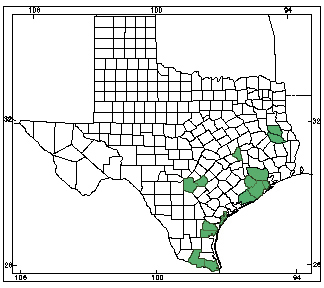 Map is based on museum voucher specimens. Last updated 12 November 2014.