Scientific Name:
Nerodia harteri
Diagnostic Features:
Anal plate divided.
Keeled dorsal scales in rows of 21 to 25 near midbody.

Two small scales present in between the posterior set of large chin scales.
Coloration:
Brown-gray or green-brown dorsum.

Four rows of dark dorsal spots running the length of body giving a checkerboard appearance.

Belly pink or orange and pigmented with spots along margins of ventral scales.

Throat and neck are yellow or cream in color.
Size:
Adult Nerodia harteri average 51-76 cm (20-30 in) in length.
General Distribution:
The Brazos watersnake has one of the most restricted ranges of any Texas snake, found only along portions of the Brazos River.
Behavior:
A diurnal hunter, Nerodia harteri depends on the rocks in its habitat for security and without rocks, there are no Brazos watersnakes. Nerodia harteri is not considered a food generalist, prefering a diet of small fish, though individuals have been recorded as eating a variety of salamander and frog species, as well as an occassional crayfish. Much of the habitat for this species is disappearing due to human influences. Dams have been built, flooding the prefered rocky shoreline habitat of N. harteri. Additional introductions of non-native plants, including salt cedar have further changed shoreline habitats, making them unsuitable for this snake species.
Reproduction:
The Brazos watersnake is viviparous, meaning it gives birth to live young. This occurs generally occurs in September and October as litters of as many as 23 young are born, with neonates measuring between 18-25.5 cm (7-10 in) in length.
Habitat:
The exclusive habitat of Nerodia harteri are the rocky stream beds and banks of the Brazos River; this species is not found along the sandy stretches of this river system.
Conservation Status:
The Brazos watersnake is recognized as threatened by the Texas Parks and Wildlife Department and is fully protected by the law.
Texas Distribution:
Nerodia harteri is restricted to the upper portions of the Brazos river drainage in north-central Texas.
Distribution Map: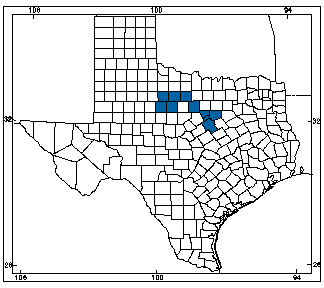 Orange counties indicate new county records since previous Herps of Texas update in 1998; all other colored counties reflect known distribution prior to 1998 for species and/or subspecies. Map is based on museum voucher specimens.