Scientific Name:
Ramphotyphlops braminus
Diagnostic Features:
Small thin snake with head and tail remarkably similar; head distinguished by small dark eye spots completely covered by scales, and with complete nasal suture; tail with sharp spur. Twenty scale rows around body (vs. 14 in native Leptotyphlops); tongue with lateral papillae.
Coloration:
Dorsal coloration brown to gray to purple, ventral surface grayish brown. Tail with white tip.
Size:
Adults average 6-16 cm (2.5-6.5 in).
General Distribution:
Native to Africa and Asia, R. braminus has been introduced around the world through the movement/trade of soils as well as the plant nursery trade.
Behavior:
This species spends the majority of its life underground where it searches for food. The diet of R. braminus is not unlike our native threadsnakes, consisting of ant and termite larvae/pupae. Large rain events may flush these snakes to the surface, where they may superficially look like earthworms.
Reproduction:
This species is very unusual among snakes because it is an all-female species and is parthenogenetic. Offspring can be live-born or hatched from eggs.
Habitat:
A fossorial species, R. braminus can be found under rocks and logs.
Conservation Status:
The Brahminy Blind Snake is not a protected species in Texas.
Texas Distribution:
Only known from Cameron County.
Distribution Map: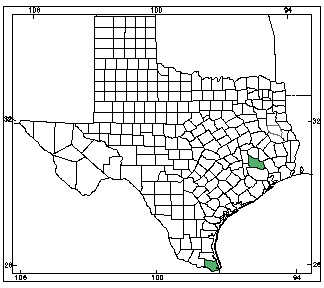 Map is based on museum voucher specimens. Last updated 24 October 2013.