Scientific Name:
Sceloporus cyanogenys
Diagnostic Features:
Largest of spiny lizards.

Long tail.
Coloration:
Dorsal ground color is gray or brown

Dorsal pattern varies with sex, but both sexes have a dark band across the neck bordered on both sides by a lighter pigment.

Tail is vaguely banded with dusky color.

Head and limbs are dark brown.

Males with metallic green or blue on back and tail with white flecks; male also with blue chin and throat, and blue belly patches.

Females and young lack blue-green coloration and belly patches.
Size:
The largest species of spiny lizard in Texas, Sceloporus cyanogenys grows to lengths (total length including tail) of 12.5-35 cm (5-14 in).
General Distribution:
In North America, Sceloporus cyanogenys is found from south Texas to northeastern Mexico.
Behavior:
This diurnal lizard shelters in rock crevices. Sceloporus cyanogenys feeds primarily on flying insects, but eats other insects, as well.
Reproduction:
This live-bearing lizard gives birth to young from February to June with as many as 18 young per litter.
Habitat:
Sceloporus cyanogenys prefers rocky terrains in arid and semi-arid environments where it is commonly seen on boulders, rock piles, cliffs, bridges, and in dry creekbeds.
Conservation Status:
The blue spiny lizard is not a protected species in Texas and can be legally collected with a hunting license.
Texas Distribution:
In Texas, Sceloporus cyanogenys is found in south Texas, primarily along the Rio Grande Valley from Kinney County to Cameron County.
Distribution Map: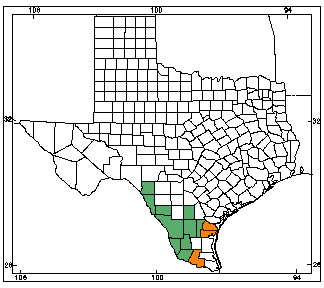 Orange counties indicate new county records since previous Herps of Texas update in 1998; all other colored counties reflect known distribution prior to 1998 for species and/or subspecies. Map is based on museum voucher specimens.