Scientific Name:
Eurycea robusta
Diagnostic Features:
Large head with flattened snout.

Reduced, vestigial eyes beneath the surface of the skin.

Bright red external gills.

Thin, elongate limbs; four toes on front feet, five on hind feet.

Finned tail tapering at tip.

Twelve costal grooves.
Coloration:
White to pale pink with translucent skin
Size:
The only known specimen of Eurycea robusta measured 10 cm (4 in) total length.
General Distribution:
Eurycea robusta is restricted to Texas.
Habitat:
Because Eurycea robusta was only seen once while drilling in a streambed, it is guessed that this salamander species inhabits subterranean streams.
Conservation Status:
The Blanco Blind Salamander is listed as a threatened species by the Texas Parks and Wildlife Department and is fully protected by the state.
Texas Distribution:
Eurycea robusta has been found only in the Balcones Aquifer near the Blanco River in Hays County, Texas.
Distribution Map: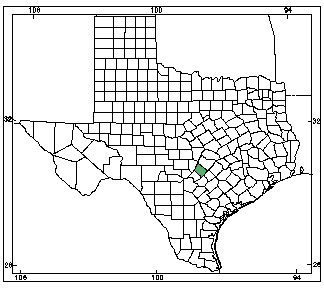 Orange counties indicate new county records since previous Herps of Texas update in 1998; all other colored counties reflect known distribution prior to 1998 for species and/or subspecies. Map is based on museum voucher specimens.