Scientific Name:
Notophthalamus meridionalis
Diagnostic Features:
Smooth-skinned newt with a relatively large head.

Elongate limbs.

Finned, vertically compressed tail.
Coloration:
Olive green dorsum and orange ventral surface, both with large black spots.

Yellow stripes on back and blue-green coloration on sides may be present.
Size:
Notophthalamus meridionalis grows to an adult total length of 5-11 cm (2-4.2 in).
General Distribution:
In North America, Notophthalamus meridionalis is found in south Texas and adjacent Mexico.
Behavior:
Notophthalamus meridionalis finds shelter among submerged rocks and feeds on insects, mollusks, leeches, and small amphibians. Notophthalamus meridionalis also has toxic secretions from skin glands to deter predators.
Reproduction:
Breeding peaks in the spring for Notophthalamus meridionalis, but can occur all year. Females will lay up to 300 eggs and attach them to submerged vegetation in shallow waters.
Habitat:
Notophthalamus meridionalis prefers warm, shallow waters with vegetative cover, such as those in ponds, ditches, and swamps.
Conservation Status:
The Texas black-spotted newt is considered a threatened species by the Texas Parks and Wildlife Department and is fully protected by the state.
Texas Distribution:
The only subspecies of Notophthalamus meridionalis found in Texas,N. m. meridionalis, is found along the coast in the southern portion of the state.
Distribution Map: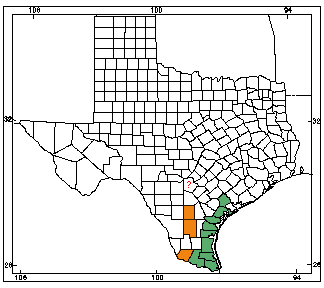 Orange counties indicate new county records since previous Herps of Texas update in 1998; all other colored counties reflect known distribution prior to 1998 for species and/or subspecies. Map is based on museum voucher specimens.