Scientific Name:
Thamnophis cyrtopsis
Diagnostic Features:
Undivided anal plate.
Keeled dorsal scales in 19 rows near midbody.
Coloration:
Called the "black-necked gartersnake" for black blotches found behind jaws; a yellow vertebral stripe separates these neck blotches.

Vertebral stripe may be a shade of orange near the head.

Two additional white lateral stripes are positioned over the second and third dorsal scale rows.

Dorsal ground color is generally olive; head color is gray.

Two rows of alternating blotches are found between the lateral and vertebral stripes.

Series of alternating spots is found along the first dorsal scale row.

Belly is greenish white and without pigmentation.

There are two recognized subspecies of Thamnophis cyrtopsis with their distinction based on slight pattern differences.
Size:
Adult Thamnophis cyrtopsis may grow to 40.5-71 cm [16-28 in] in length.
General Distribution:
Thamnophis cyrtopsis is present in the southwestern U.S., found in Arizona, Utah, Colorado, New Mexico, and Texas. Large populations are also present throughout much of northern Mexico, as far south as San Luis Potosi.
Behavior:
In these warmer habitats, Thamnophis cyrtopsis is nocturnal or crepuscular, becoming diurnal in the spring, or during the fall as the day length shortens. Amphibians and fish make up the majority of the diet of these non-venomous snakes. Thamnophis cyrtopsis is also quick to make use of its scent glands if disturbed, but generally will not bite unless seriously molested. Thamnophis cyrtopsis is known for flattening its body in an attempt to look larger.
Reproduction:
Thamnophis cyrtopsis is viviparous, as are the rest of the garter snakes. As many as 25 young may be born in a single litter, measuring between 20-25.5 cm (8-10 in), making their first appearance in the late summer.
Habitat:
The habitats of the black-necked gartersnake range from the dry deserts to forested mountains, yet some form of water can almost always be found nearby. Even in around desert springs, miles from any other water source, Thamnophis cyrtopsis can be present in surprising high numbers.
Conservation Status:
The black-necked gartersnake is not a protected species in Texas and can be legally collected with a hunting license.
Texas Distribution:
In Texas, Thamnophis cyrtopsis is restricted to the wetter portions of the Trans-Pecos and Edwards Plateau.
Distribution Map: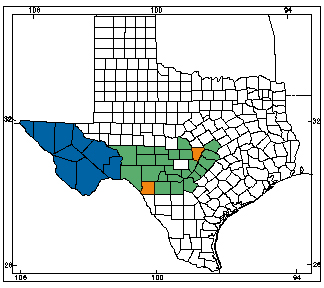 Orange counties indicate new county records since previous Herps of Texas update in 1998; all other colored counties reflect known distribution prior to 1998 for species and/or subspecies. Map is based on museum voucher specimens.