Scientific Name:
Trachemys gaigae
Diagnostic Features:
Weakly keeled, oval carapace with slightly serrated posterior.

Unhinged plastron.

Upper jaw medially notched.

Webbed feet.

Males without elongated toenails on forelimbs.
Coloration:
Carapace olive-brown with intricate pattern of orange lines on the pleural and vertebral scutes.

Plastron white, orange, or light green.

Center of plastron with dark pigment formed by lines along transverse seams.

Skin is light green or brown.

Forelegs with yellow stripes; rear legs with vertical stripes.

Oval orange (or red) spot bordered by black behind eye, not touching orbit.

Lateral stripes on neck broken into small spots or ovals.

Chin with medial stripe.
Size:
Adult Trachemys gaigeae reach carapace lengths of 12.5-20 cm (5-8 in).
General Distribution:
In North America, Trachemys gaigeae is found only in the Rio Grande river from southern New Mexico to the Big Bend of Texas.
Behavior:
Little is known about the natural history of this species. Likely a basking turtle maintaining a vegetarian diet.
Reproduction:
Little is known about reproduction in this species. Likely clutch sizes of 6-11 eggs.
Habitat:
The Big Bend slider is found in pools and slow-moving portions of the Rio Grande River. May also be found in cattle tanks adjacent to the Rio Grande.
Conservation Status:
The Big Bend slider is not a protected species in Texas and can be legally collected with a hunting license.
Texas Distribution:
In Texas, Trachemys gaigae , is restricted to the Rio Grande in the vicinity of Big Bend (along the Presidio, Brewster, and Terrell county borders), as well as that portion of the river near the Hudspeth/Culberson/Presidio county lines and northern El Paso County.
Distribution Map: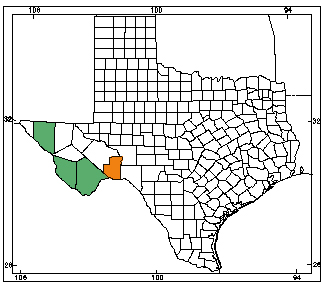 Orange counties indicate new county records since previous Herps of Texas update in 1998; all other colored counties reflect known distribution prior to 1998 for species and/or subspecies. Map is based on museum voucher specimens.