Scientific Name:
Salvadora deserticola
Diagnostic Features:
Dorsal scales are typically smooth, with scales near the vent of mature specimens occassionally being keeled.
Anal plate is divided.
Coloration:
Yellow or tan colored dorsal background.

Two conspicuous dark lateral lines that run the length of the body.

Presence of these stripes leave a tan colored stripe down the midline of the snake.

Two additional dark lateral lines are found along the fourth scale row.

Ventral scales are usually peach colored and free of dark pigment.
Size:
Adult Salvadora deserticola reach lengths of 61-81 cm (24-32 in), with a record length recorded of 101.5 cm (40 in)
General Distribution:
The range of Salvadora deserticola in North America ranges from western Texas through southeastern Arizona in the north, with populations extending down into the northern states of Mexico.
Behavior:
Both Salvadora species are considered non-venomous with S. deserticola reported to feed on lizards, snakes, a variety of reptile eggs, small mammals, and insects. Much of this animal's foraging times coincide with peak lizard activity time, translating to summer activity hours early in the morning as well as in the waning daylight hours of the evening. The longitudinal stripes running the length of the body may appear conspicuous at first glance, but the longitudinal pattern makes them difficult to catch as they make their way through the rocks and underbrush.
Reproduction:
Not much is known specifically about the reproductive natural history of this species, other than it is an egg layer. Information regarding similar species indicate that mating takes place in April and May, with egg laying occurring from May until August.
Habitat:
Salvadora deserticola is frequently seen in the early daylight hours throughout its distribution in the extreme western portions of the Trans-Pecos in desert habitats composed of sandy or loose soils, ranging from dry wash beds and rocky foothills. This patch-nosed snake species occasionally is found in the same habitat as its congener, S. grahamiae, though the latter snake is typically found at higher elevations.
Conservation Status:
The Big Bend patch-nosed snake is not a protected species in Texas and can be legally collected with a hunting license.
Texas Distribution:
In Texas, Salvadora deserticola is restricted to the western extremes of Chihuahuan Desert habitat in the state.
Distribution Map: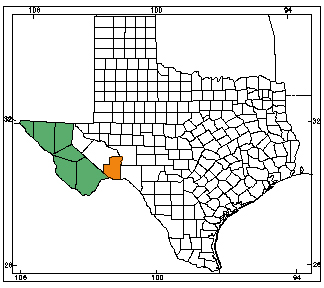 Orange counties indicate new county records since previous Herps of Texas update in 1998; all other colored counties reflect known distribution prior to 1998 for species and/or subspecies. Map is based on museum voucher specimens.