Scientific Name:
Eleutherodactylus augusti
Family:
Eleutherodactylidae
Diagnostic Features:
Toad-like shape with large head and forelegs with a dorsolateral fold present along its torso.
A circular ventral disc present on its belly (as in L. fragilis).
A fold of skin is present on the head just behind its eyes.
Toes are slender and not webbed.
Coloration:
Dorsal background color can vary from tan to green, with pink or red tones sometimes present.
Size:
Eleutherodactylus augusti reaches an adult length between 6-9 cm (2.5-3 in).
General Distribution:
In North America, Eleutherodactylus augusti is found along a narrow band from central Texas into southeastern New Mexico; a separate population also occurs in southern Arizona. This species is also found throughout many of the major mountain ranges in Mexico.
Behavior:
Eleutherodactylus augusti is a shy frog rarely seen in the open. Eleutherodactylus augusti climbs rocks and walks with its entire body held above the ground. When captured, it will puff up to several times its body size.
Reproduction:
Breeding occurs from February to May during the rainy season. Eleutherodactylus augusti lays its eggs in a foam nest away from standing water; the tadpoles undergo direct development, where the tadpoles transform inside the eggs and emerge as small frogs.
Habitat:
Eleutherodactylus augusti can be found in limestone caves and crevices, but it is known to utilize kangaroo rat burrows in southeastern New Mexico.
Conservation Status:
The barking frog is not a protected species in Texas and can be legally collected with a hunting license.
Texas Distribution:
The single species Eleutherodactylus augusti found in Texas, E. a. latrans, is found from central Texas southwest to Del Rio, then northwest through west Texas to the southeastern corner of New Mexico.
Distribution Map: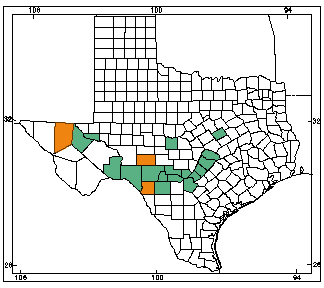 Orange counties indicate new county records since previous Herps of Texas update in 1998; all other colored counties reflect known distribution prior to 1998 for species and/or subspecies. Map is based on museum voucher specimens.