Scientific Name:
Pantherophis bairdi
Diagnostic Features:
Scales are faintly keeled, with 27 scale rows at midbody.
Divided anal plate.
Coloration:
Dorsal color is grey-brown with scales edged in yellow or orange-yellow on forebody and deep orange or salmon toward rear.

Adults with four dark longitudinal stripes.

Ventral surface light grey to pale yellow but darkens to salmon under tail.
Size:
Adult Pantherophis bairdi can grow to lengths of 62.5-137.5 cm (25-55 in).
General Distribution:
In North America, Pantherophis bairdi is found only in portions of Texas and northern Mexico.
Behavior:
This ratsnake is slow-moving and generally calm. Pantherophis bairdi will hiss and may strike if threatened. Feeds on small mammals (including bats), birds, and lizards.
Reproduction:
Breeding takes place in early summer and a clutch of up to 10 eggs is laid mid-summer. Incubation lasts about 12 weeks. Hatchlings are 12 inches long and marked with gray and brown blotches. These blotches slowly fade into the background coloration of the snakes as they become adults, gaining the longitudinal stripes as the blotches disappear
Habitat:
Pantherophis bairdi can be found across rocky, wooded areas of Cretaceous limestone canyons of the Edwards Plateau and upland and desert parts of the Trans-Pecos.
Conservation Status:
Baird's ratsnake is not a protected species in Texas and can be legally collected with a hunting license.
Texas Distribution:
In Texas, Pantherophis bairdi is found from south-central Texas to Big Bend.
Taxonomy Notes:
Formerly Elaphe, the North American ratsnakes have been restricted to the genus Pantherophis by Utiger et al. (2002, Russian J. Herpetology 9:105-124).
Distribution Map: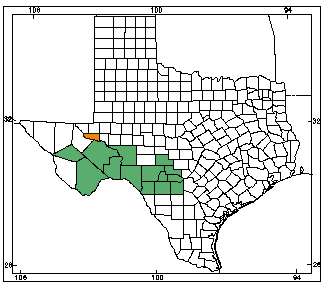 Orange counties indicate new county records since previous Herps of Texas update in 1998; all other colored counties reflect known distribution prior to 1998 for species and/or subspecies. Map is based on museum voucher specimens.