Scientific Name:
Eurycea waterlooensis
Diagnostic Features:
Snout elongate and flattened.

Body flattened ventrally.

External eyes absent.

External gills.

Weakly developed tail fins.

Four toes on front feet, five on hind feet.

Twelve costal grooves.
Coloration:
Pearly white luster dorsally with light distribution of pigment across entire dorsal surface.

Ventral surface white and unpigmented.
Size:
Maximum adult size in Eurycea waterlooensis is 6-7 cm (2-3 in) total length.
General Distribution:
Eurycea waterlooensis is found only in the outlets of Barton Springs in Travis County, Texas.
Behavior:
Little is known. Seventeen of the eighteen animals found in Barton Springs were juveniles flushed from the underground aquifer. The single adult captured defecated remains of amphipods, copepods, ostracods, and plant material.
Habitat:
Strictly aquatic, Eurycea waterlooensis likely spends most of its life underground in the subterranean cavities of the Edwards Aquifer.
Conservation Status:
The Austin Blind salamander is listed as a federally endangered species by the U.S. Fish and Wildlife Service and can not be collected without a federally issued permit.
Texas Distribution:
Eurycea waterlooensis is found only at three of the four outlets of Barton Springs (Parthenia, Eliza, and Sunken Gardens Springs) in Travis County, Texas.
Distribution Map: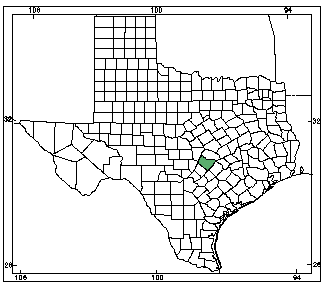 Orange counties indicate new county records since previous Herps of Texas update in 1998; all other colored counties reflect known distribution prior to 1998 for species and/or subspecies. Map is based on museum voucher specimens.