Scientific Name:
Bufo americanus
Diagnostic Features:
Parotoid glands usually separated from cranial crests, or connected by short spur.

Only one or two warts per dark spot.

Short, sturdy legs and prominent eyes.
Coloration:
Typically plain brown; may also be gray, olive, or red, with light-colored patches.

Ventral surface light colored with spots.

Middorsal stripe may or may not be present.

Adult males with dark throats.
Size:
Adult Bufo americanus typically reach lengths of 5-8 cm (2-3.5 in).
General Distribution:
The range of Bufo americanus extends from southern portions of Canada, west to the eastern edge of the Dakotas and south into the northern reaches of all of the Gulf Coast states, except Florida.
Behavior:
Bufo americanus is nocturnal and feeds on insects and other invertebrates. During the cold winter, B. americanus survives by burrowing into the soil.
Reproduction:
Bufo americanus breeding occurs from March to July. It is typically the toad species to begin calling in the spring. The female lays strings of dark eggs in the water.
Call Characteristics:
The call of Bufo americanus can be described as...
Habitat:
The habitat of Bufo americanus varies widely from mountain wilderness to urban areas. Moist areas are required for shelter, and pools or small bodies of water are necessary for breeding.
Conservation Status:
The American toad is not a protected species in Texas and can be legally collected with a hunting license.
Texas Distribution:
In Texas, the one subspecies of Bufo americanus, B. a. charlesmithi is found only in the extreme northeast corner of the state.
Distribution Map: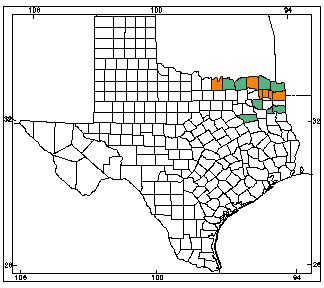 Orange counties indicate new county records since previous Herps of Texas update in 1998; all other colored counties reflect known distribution prior to 1998 for species and/or subspecies. Map is based on museum voucher specimens.