Scientific Name:
Alligator mississippiensis
Diagnostic Features:
Largest reptile in North America.

Large head, with a rounded snout, long jaws, and protruding eyes and nostrils.

Several rows of dorsal scales on body are strongly keeled, but ventral scales are soft and rectangular.

Tail has two rows of keeled scales that converge to form one strong keel at the midpoint of the tail.

Strong, stout legs; front feet with 5 fingers and webbed hind feet with 4 toes.
Coloration:
Adults are dark, appearing almost black.

Juveniles have yellowish crossbands that generally fade with age.
Size:
Adults range in size from 2-5 meters (6-16 feet); record length 5.5 meters (19 feet).
General Distribution:
In North America, the American alligator is found in the southern coastal states, from North Carolina to Texas.
Behavior:
Semiaquatic, this crocodilian basks on land near water. It swims with just its eyes and nostrils above water. During colder months, it hibernates in burrows dug in the mudbanks. It feeds on anything in its habitat, including crustaceans, fish, snakes, waterfowl, lizards, and small mammals. It can drown larger prey by holding and twisting it under water.
Reproduction:
Breeding occurs in April and May, after hibernation. The female lays up to 60 hard-shell eggs in a large nest of mud and leaves and remains with the young for about one year.
Habitat:
The American alligator can be found in a variety of freshwater habitats, including swamps, lakes, and bayous. It also occurs in the brackish waters of coastal marshes.
Conservation Status:
The American alligator was formerly listed as an endangered species by the U.S. Fish and Wildlife Service, but was delisted in 1985. The alligator is classified now as a protected game animal in Texas and can not be hunted or collected without a special permit from Texas Parks and Wildlife Department.
Texas Distribution:
In Texas, Alligator mississippiensisis found in the eastern third of the state in addition to the southern third of the state.
Distribution Map: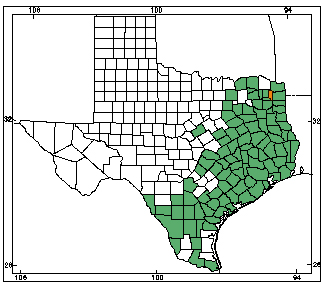 Orange counties indicate new county records since previous Herps of Texas update in 1998; all other colored counties reflect known distribution prior to 1998 for species and/or subspecies. Map is based on museum voucher specimens.